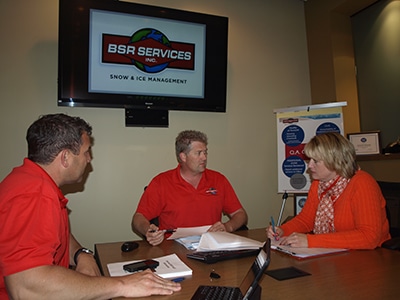 Unintimidated by the challenge, St. Louis snow and ice management firm BSR Services shares a first-hand account of the lessons they learned going through the ISO process.
At BSR Services, we are very competitive. We want to remain an industry leader and, to do that, you have to be aggressive.
So when we learned about the new ISO9001/SN 9001 process…let's just say we were one of the first in line to engage it.
BSR, founded in 1984 and headquartered in Maryland Heights, Mo., is St. Louis' largest locally owned and operated snow and ice management provider located in Maryland Heights, Mo.
Revitalization
This business is all about quality. Everything we do – from year-round preparation to the actual snow removal – impacts customer relationships. So, if there's a better way to serve our clients than what we currently do, we want to know.
The newly created ISO9001/ SN 9001 system is designed to improve upon our existing methods. An independent third-party audit essentially focuses on maintaining the highest industry standards in terms of proper contractor training and implementation. Designed to make companies more efficient and effective, the audit and its all-encompassing recommendations were greeted with open arms.
Refinement
BSR built its business model on repeatable systems and detailed standard operating procedures. Since we already practiced the ISO 9001's regulations for the past few years, it seemed like a natural fit to proceed with the accreditation process.
Our quest was to be the first company in the Midwest to become both ISO 9001 and SN 9001 certified.
"Once we learned about how it would benefit our company and our customers, we were committed to the program," says BSR's director of operations Nick Mossoti. "We strive to be the very best at what we do, and this is just one more step in that process toward achieving the highest quality management system possible."
BSR selected Smithers Quality Assessments' Gretchen Merriman to perform the assessment based on her ISO knowledge. The audit included the following:
Pre-Assessment Visit. Gretchen toured our facility and identified specific areas of concern. She also pointed out ways we could improve our systems and operations to conform to the most updated industry standards. We believe this process truly helped solidify our current daily procedures. Her suggestions enabled us to make the necessary adjustments to our existing tracking documents in order to be ISO compliant.
Stage One and Stage Two Visits. The audit is an involved, time-intensive process that is all about conformity. This portion is where we closely tweaked our standard operating procedures. An internal audit of all SOP's and current systems was completed. A management review was conducted on all key areas so we could correct any non-conformances to be in compliance with ISO's strict international standards.
Follow-Up Audits. Gretchen suggested (and we agreed) to institute semi-annual audits of all our current systems to ensure our staff follows proper procedures. We also will continue to look for ways to improve BSR's operating systems on our own. ISO supplied our management team with a variety of tools to evaluate and implement positive changes at our growing company…and we plan on using them on a daily basis.
Regulations
With the backing of this new accreditation, BSR will experience validation from both peers and customers. "The benefit to gaining ISO 9001 is priceless," said BSR president Carl Bolm. "We will be able to utilize this certification in our sales efforts so clients recognize our dedication and expertise."
A large portion of accreditation focuses on staying safe and accident-free in terms of snow-specific equipment and regulations. Carl added that "from a slip and fall standpoint, a company that has the ISO 9001 certification may be the target of less lawsuits. With the recent historic winter that we experienced, the new process provides an even more thorough checklist to our existing standard operating procedures."
When the ASCA set the educational benchmark for success even higher with the new ISO program, BSR was ready to take the challenge. The result: value-added service thanks to an academic experience well taught and eagerly learned.