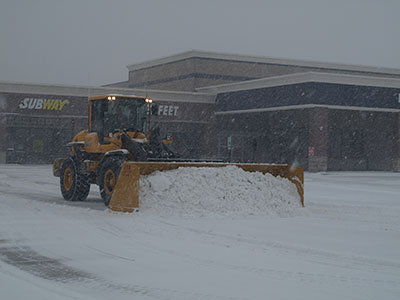 Snow management is an intimidating task for even the smallest site, yet the entire process is achievable if you combine the right planning, equipment and supervision. Developing an preseason plan, implementation of that plan, and on-site supervision are all keys for managing large sites. Here's a breakdown.
Preseason Planning
Snow and ice management is hard to prepare for and even more difficult to execute. Regardless, detailed preseason organization is a must for any snow response plan. Visit the site with supervisors and property managers, discuss expectations. Create a detailed site map that pinpoints all drive lanes, parking areas, sidewalks and priorities. Assign equipment and manpower to the site, and discuss on-site chemical storage and accessibility. Generate a snow response plan and storm standard operating procedures.
Preseason planning is the foundation for client relationships. Be proactive in your methods, preventive in your treatment, and polished in your execution.
Equipment
When developing your plan, balance the right number and size of equipment to fit each site's needs. Combine a mix of wheel loaders with 16-foot pushers, skid steers with 10-foot pushers, and a couple of plow trucks for large sites. All machines can be used for pathing and, when plowing begins, the skid steers can feed snow from tighter areas to the wheel loaders.
Plow trucks are ideal for roadways and entrance areas. Pushers larger than 16-foot may be too large for drive lanes during business hours. Utilize the wheel loaders for snow pile relocation. Employing experienced equipment operators increase efficiency and profitability.
Sidewalks
Finding enough hand crews to battle winter is a challenge. Available options include using enclosed mechanical equipment with brooms and plows, which will reduce manpower numbers while keeping crews fresh. Walk-behind sidewalk broom units are popular choices for large foot traffic areas. Utilize ATVs or UTVs with plow blades for quick sidewalk clearing. Hand shovelers are needed to clear tight areas near buildings.
Deicing
Access to deicing chemicals is critical for quick response and application. Large properties often have room for on-site salt and sidewalk deicer storage. A common practice is setting up small bin block storage areas for salt, as well as keeping dedicated on-site wheel loaders and skid steers to ensure easy loading of chemicals throughout the winter season. Dedicated salt trucks and sidewalk crews are crucial.
Supervision
The final component is having the right amount of supervision in place to handle the property. If the site is large, multiple supervisors may be a necessary. Achieve maximum results with separate sidewalk supervisor and parking lot supervisors. Technology (iPads) track and document a crew's progress throughout a storm.

Read more from Snow Magazine.