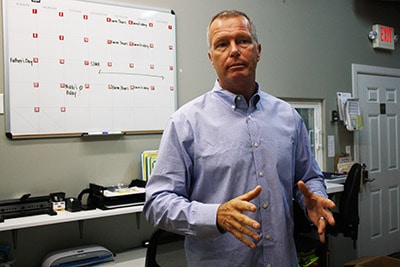 When Carl Bolm started plowing snow 30 years ago, he was just trying to survive winter layoffs from his regular employer, Ozark Air Lines.
"As I was moonlighting, I eventually started getting clients who were faithful and loyal to the business," Bolm said. He finally got enough seniority at Ozark that he wasn't being laid off, and he told his customers that he would only clear their driveways for another year.
"I got such an outpouring of support that I had something of a guilty conscience," Bolm said. "It dawned on me what a valuable service we were providing."
Bolm did both jobs for a while, but then began to see the snow business as something to concentrate on full-time. His company, BSR Services Inc., had grown into more of a risk-management tool for property owners, including commercial, industrial and hospital clients such as BJC and Express Scripts.
BSR has never had a sales force. "We've organically grown the business," based mainly on referrals from existing clients, Bolm said. It has many multi-year contracts with large property owners throughout St. Louis County.
"We manage logistics and equipment, manpower and chemicals," Bolm said. That includes 500 to 600 pieces of equipment and a similar number of contract and seasonal employees. BSR has seven full-time executives and managers in its office in Maryland Heights.
BSR keeps Bolm and his full-time staff busy year-round. As soon as the season ends, all the equipment is inspected and cleaned. Repairs and repainting begin in May and June, and Bolm orders salt and chemicals in July. BSR's managers attend the Snow and Ice Management Association (SIMA) annual conference in June.
BSR is the only U.S. company to have won the "Excellence in Business" award from SIMA twice, in 2007 and 2011. All full-time employees are certified by the Accredited Snow Contractors Association (ASCA). Three employees recently became the first in the nation to earned advanced certification from SIMA).
BSR Services recently became the first Midwest company and the second in the nation to earn ISO 9001/SN 9001 certification through the ASCA. The newly created ISO 9001/SN 9001 system is exclusive to professional snow contractors and designed to improve upon existing methods. The accreditation process involves an independent third-party audit that evaluates a company's procedures and industry standards. The audit focuses on proper contractor training and implementation for the professional snow and ice management industry.
The business has become increasingly sophisticated. BSR subscribes to multiple meteorology services to monitor the weather, and it's developing its own software.
Clients get an email hours before a storm is expected, to warn them of potential snow or ice accumulations. BSR also puts together a service plan that clients get several hours before a storm is due. BSR provides updates by email of any changes in the weather or service plans. Supervisors check in by phone and update clients on their service status.
Employees and contractors also get email alerts, along with a tentative start times, several hours before the storm. Times are adjusted as the storm approaches. They check in through an interactive voice response system, and trucks are equipped with GPS systems.
During a storm, quality assurance managers drive to clients' properties to make sure jobs are being done according to plan. They don't interfere, but they're available as a resource if crews have questions or problems.
Client invoices and team member pay go out after the storm ends. "We get paid by the storm," Bolm said.
To be part of the BSR team, every employee and contractor goes through "BSR University." There's a curriculum, videos and instruction on do's and don'ts. Employees must pass a written quiz to get safety cards.
Carl Bolm BSR Services
Carl Bolm, owner of BSR Services with one of the company's salt trucks.
Even long-time employees are expected to attend a mandatory annual meeting, where Bolm and other managers go over the company's values and requirements. There's food, a raffle and giveaways to make it fun, but no excuses for missing the meeting. "We're not going to allow a weak link to ruin our reputation," Bolm said.
Bolm and his managers have produced binders laying out everything that has to be done on a month-by-month basis as well as storm-by-storm. Bolm said he used to carry all the procedures in his head, but at some point he realized things would go much more smoothly and consistently if everything was written down.
One manual is called the BSR Bible, and supervisors have to initial each task as it's completed. "We have a process and a system for everything we're doing," Bolm said. "You follow that and you'll be successful."
In addition to BSR, Bolm also owns Cedar Lake Cellars, a winery and event center in Wright City, and The Battlegrounds, a mud run and obstacle course that is adjacent to the winery. The Battlegrounds hosts two annual open competitions. The most recent one was a benefit for The Mission Continues, a St. Louis-based charity that serves veterans. The course also is available for corporate team building and other military training groups.