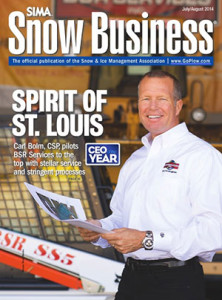 A job opportunity that went bust for Carl Bolm in the 1980s set him on a course that would lead to the formation of BSR Services, which has become the largest privately owned and operated snow & ice management company in the greater St. Louis, MO, market. As the company prepares to celebrate its 30th anniversary in September, Bolm—the 2014 CEO of the Year—finds himself at home in a city he loves with a company that reflects a vision that starts and ends with delivering unparalleled service.
With a portfolio that includes discerning property/asset managers and many high-profile St. Louis companies, there is little room for error.
"Our customers expect excellent service with no excuses combined with amazing results," Bolm explains. "While other snow-removal companies exist in our area, we believe BSR Services is its own biggest competitor. Our challenges do not focus on other providers, but more on what we need to accomplish (and excel at) with every single storm."
Systems lead the way
Consistent service excellence comes from the processes that Bolm has established for his team of six full-time executives and more than 500 subcontractors who handle every storm.
"We mainly focus on systems and procedures that consistently exceed our clients' expectations. We are successful because we have kept lean and worked harder than our competition. We stay on the cutting edge of technology, so our customers trust our process and how we work within the system," Bolm says.
From the beginning, Bolm has compiled volumes of documents and processes that he knew could help his company run more efficiently. With the help of a law firm, he was able to refine them and put a good foundation in place. He continues to refine those processes every day.
"We are constantly improving. Not only do we have a standard operating procedure [SOP] for every storm, but we have an annual SOP to ensure we are always ready," he says.
Strong team follows through
Processes, however, don't mean a thing without good people to implement them. Bolm credits the BSR team with helping the company achieve a customer retention rate of more than 95%.
"Their tireless work in the brutal elements is grueling. They work hours upon hours, never complaining, and always keeping in mind that we are only as good as our last storm. Each storm relentlessly tests our strengths, and that means we have to do our best no matter what the situation is," Bolm says.
With 30 years under his belt, it might seem natural for Bolm to step back and let his executives run the show. However, his name is synonymous with BSR, so Bolm remains engaged in the day-to-day operations.
"I have been actively involved in my company since day one. BSR Services represents my name and reputation, so I am involved from the start of every storm until the work is efficiently completed."
That involvement is one of the key traits of a good CEO, says his attorney, William Corrigan: "He is very hands-on and would never ask someone on his team to do something he wouldn't do. He has great vision and he has his snow & ice operations down to a science. He's the maestro of the operation."
Constantly learning
Bolm had zero experience in the snow industry when he started BSR, but his incredible work ethic and a desire to learn helped him become an innovator and an expert in the field. He shares the importance of education with his team and encourages them to learn as much as they can. Bolm and all of his executives are Certified Snow Professionals, and several have earned SIMA's new Advanced Snow Manager designation.
"When I first created my company, there were no resources of any kind. You simply learned by trial and error. Now I find myself eager to absorb all I can at SIMA's conventions, and it isn't just at the workshops and courses. My team and I talk to everyone, even if it's during breaks or at the snack and chats, to learn from our peers. We take our entire office each and every year," he says. "I believe the combination of information and knowledge is the secret to success. The more you know, the more you can offer each and every client."
Bolm is proud to have built a team of vendors, contractors and executives who work together to treat every customer as if they are BSR's only client. Every day is a blessing and one that Bolm cherishes.
"I still am like a kid at Christmas when it comes to BSR Services. Every year that I succeed in this industry — where I can help provide exceptional service to so many amazing clients — is a bonus. The best feeling is when I receive heartfelt kudos that highlight how we exceeded our clients' expectations. That is a total high, and nothing else compares."