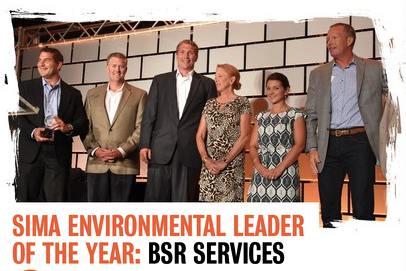 Originally appeared in Snow Business Magazine:
BSR Services, Based in St. Louis, MO, received the inaugural SIMA Environmental Leader of the Year award for its role as a community leader in environmental responsibility. Every aspect of the company — from the types of trucks it purchases to the actual ice treatment products it uses — focuses on the environment and the responsibilities associated with reducing BSR's carbon footprint.
To that end, BSR took its biggest step toward reducing its environmental impact by making a significant investment in liquids. The company purchased Henderson Products' BrineXtreme, several 3000-gallon liquid storage tanks and new 4000-gallon tanker trucks. BSR also added pre-wet systems to its existing fleet. The result was a 30% to 40% documented reduction in total salt use.
"Our organization is fully engaged in minimizing our environmental impact in terms of waste, water, energy and air quality. We continue to create the most innovative approaches in order to positively influence our world. Examples include reduced product usage, lowered labor cost, increased efficiency due to state-of-the-art equipment and products, and liquid salt integration,"
said Director of Operations Nick Mossotti, ASM.