Just A Few BSR Stories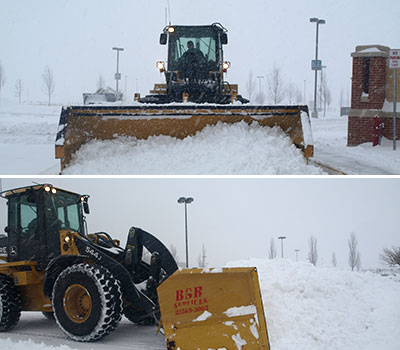 2014 Blizzard Buries Large Regional Distribution Center
During this seasons record 12+" blizzard in early January, Team BSR began planning 48 hours out in advance. We had a large acreage distribution center that was prone to extreme blowing and drifting. Our operations team was able to locate and mobilize several additional pieces of heavy equipment and loaders prior to the storm. With the addition of a wheel loader equipped with an 18′ pusher and several bobcat loaders we were able to keep the facility open and functioning throughout the storm. Temperatures were 5-10 degrees below zero, winds gusted over 40 miles an hour causing the 14″ of snow to create 10+ tall drifts burying everything in sight. Our team worked in shifts and through the elements to keep all sites operational and worked for two days digging out hundreds of semi trailers. We saved the client thousands of dollars by keeping the site open for business and allowing the operation to continue as normal.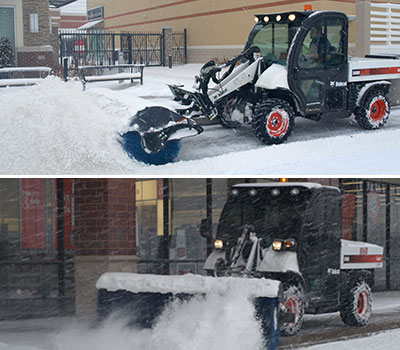 Time & Money Saved For Large Retail Outlet Mall
Each year BSR Services purchases specialized equipment in order to better serve our clients. This season we expanded our fleet of specialized sidewalk equipment. We were able to utilize these units to reduce the manpower and hand crew labor on the large sidewalk areas. The Bobcat Tool-cats with power brooms and salting units can saved 8-10 hand crews per site. Plus the heated cabs allow the operators to continue to work even under the most adverse weather conditions. The chemical de-icing spreaders allowed for rapid and even spreading of de-icing materials. This investment in technology enabled us to reduce manpower and save our clients thousands of dollars each storm. Team BSR will continue to invest in cutting edge technology that will provide better results and reduce costs to our clients.